Of course, now that Guilt Free January is over and we're into Finish It February, I get the urge to start something new. I spent all of January trying to finish things! Typical - LOL. I'm thinking of starting Mirabilia's Forest Goddess, and I've ordered this in the hope that it will work for it -
I'll have to toss the floss when it arrives. I'll let you know how it goes. It looks good on the fabric viewer but you nver can tell till you see it for real. Oh, I nearly forgot, it's Fallen Leaves from Polstitches. Another alternative is this -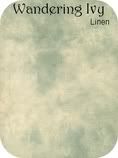 which is Silkweaver 'Wandering Ivy', I have two pieces of this - one has more cream than the other, and I think it could work.
I've just had an email from Sew and So to say that my order of this has been despatched -
It's just Nan 'Winter In The Square' and I really like the charm that goes with it. The other three seasons are set to follow, so I might just have to have them too! Someone mentioned it looks a bit Chatelainey and I think she's right - that's probably why it caught my eye!
And finally, here's the latest pic of Richard -