Hooray! I have Broadband connected again, which means I can upload photos without it taking 300 years! LOL! Soooo.....
First up, here's where I'm living...
This is the house we're renting for the next 6 months or so. That's our new car you can see on the drive too. And here's the view from the living room window at the rear of the house...
I thought I'd taken a picture during the day but it doesn't seem to be on my camera. Never mind, another day perhaps. That's Tuggerah Lake you can see behind the trees, and you can see the cycle path which runs behind my house, which we've been making good use of. It follows the lake all the way round to the other side, although I haven't ventured that far yet. We're on the wrong side of the lake to get the 'sun setting over the water' effect, but we do get some really pretty pink sunsets which the photo does no justice to.
I have a couple of HDs to share! Here's With My Needle 'Bunnies In The Garden'..
And Mirabilia 'Forest Goddess'...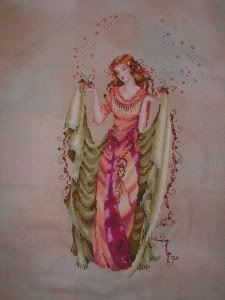 And finally, a few WIPs...
Here's my '1820 Ann Hicks Sampler'...
Chatelaine 'Misty Morning Vineyard' progressed a bit while I was waiting for my other WIPs to arrive...
and coming in late to the Papillon 'Mystery Sampler' party, but stitching fast to catch up before it's not a mystery any more! LOL. I'd never used Vikki Clayton silks before, but I have to say they're an absolute joy to stitch with!
I think that's enough photos for now. :)