Guess what I've been doing?
My goodness there's a lot of beads on this one! I spent most of yesterday evening beading, and then again this morning, and I've barely scratched the surface. Makes a good argument for beading as you go...I think next time I'll dig out my 11 x 17 frame and do it that way instead!
LOL...it seems that - quite by accident - I posted a pic this morning that answered one of the Stitching Bloggers Questions - to show "a pictorial tour of [the] special place that you go to create your wonderful stitched creations. Not a tour exactly but there isn't really anything else to show, because my stash is elsewhere. WIPs are in that sideboard you can see on the left, my stitching light you can see behind my chair (kind of, anyway) and the rest is self explanatory! While I'm at it, here's my sewing area in the rumpus room -
A mess already, as you can see ;-)
I think I'll give you the guided stash tour too...first, here's my fabbie chest. Hand dyeds in the top drawer, regular in the second, beads in the third and specialist fibres like metallics and overdyeds in the bottom -
Here's the box files with all my charts in -
Clearly the shelf is bowing under the weight LOL!
and my box of kits -
As for the other question this week - The first request comes from Vash who is requesting pictures of the back of your stitching… are you brave enough to give this one a shot?
Sure, why not? Here's the back of TWs Peacock Tapestry. I'm particularly pleased with this considering how much confetti there is -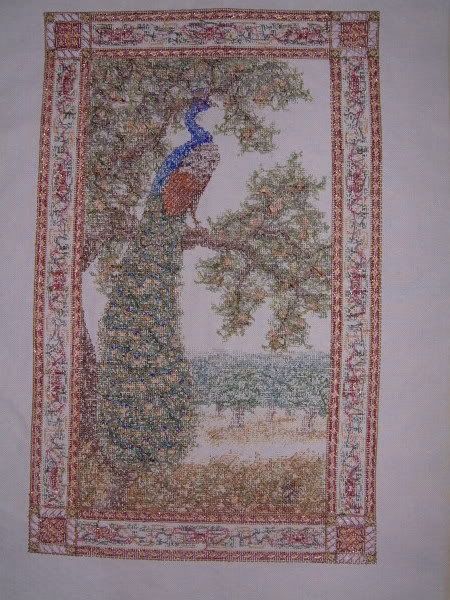 and here's Chatelaine Alhambra Garden -
And for no reason whatsoever, here's some Galahs on my washing line this afternoon. I bought a sunflower seed bell for them yesterday and the greedy so-and-sos have half finished it already! LOL