Oh wow, it's been two years since I last wrote anything. Seriously? Wow. Well, real life kind of got crazy...I went back to work, and more recently had a promotion with a lot more responsibility. But I have been stitching throughout...I just haven't been showing it here. I'm getting back into a Blogging headspace though, so I'll try to update from now on. Aaaaanyway, this is my last two finishes, completed just a day apart... This is CCN 'Daisy Sampler'. The chart was gifted to me ages ago, and it's stitched on a little remnant of green evenweave, but I can't be more specific as to what that fabric is. This was a really quick, fun little finish.
And this is Couchman Creations Map of Australia. This has been a wip for a couple of years, and just recently I decided to pull it out and actually get it done. It stitches up pretty quickly once you get into it because there's a lot of half stitch and backstitch in it.
I also had another, kinda/sorta finish. Facebook friends will have seen this - which is a sewing case I made from the wreckage of my And A Forest Grew. There's a story behind this. I started stitching it about four years ago. I was about a third of the way through when we moved house. Somewhere in all the chaos, I lost the chart. I looked everywhere for it - I must have checked my stash and the wip pile 50 times, but to no avail. Now, I know the smart thing to do would have been to put it away until it showed up, or even invest in another chart. Nope. In a fit of...well, I don't really know what it was a fit of...I took a pair of scissors to it. I recycled the unused fabric, and made the stitched remnant into a cushion. It was, frankly, a bit crap, and ended up in a cupboard, gathering dust. Skip forward to yesterday, when - tada! - the chart turned up in the bottom of my tub of finished pieces. I'll almost certainly restart it because I really do want to stitch it, but in the meantime it prompted me to pull out my poor, sad wreckage of the original. I looked at it and thought "I can do better than that", and ripped the cushion apart. I remodelled it into this sewing case. I've decided I don't like the ribbon closure so I'm going to remove that and use a button and loop instead...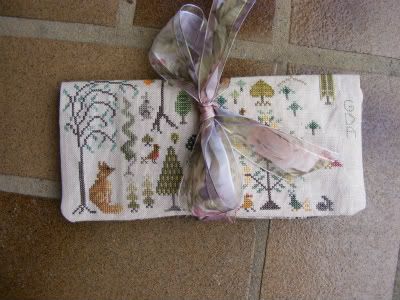 To celebrate these finishes, I started something new! I put a few stitches into Rosewood Manor's Quaker Diamonds and I'll post a picture once there is something worth showing.