Since I was a little late getting the last one in due to work commitments and general exhaustion, I thought I would get my act together this time and post on my day off!
Two of my WIPocalypse goals were to finish Froth and Bubble and Sergei, both of which have been finished since my last check in. I've already posted pics in an earlier blog post though so I won't bore regular readers with a repeat. I also started Scottish Love Sampler from Moira Blackburn - all stitched in HDF silk...
I wanted to pull out my old WIP of Japanese Garden too, so I've put SLS down for a little while to get some work in on this. This is where it was at when I picked it up...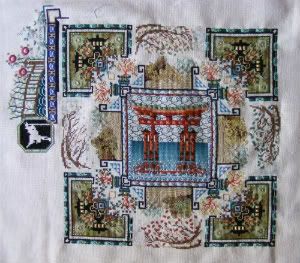 And here's where I am now...
The free style flower in the corner sucks, but that was about my fifth attempt and was the best of the bunch. I suck at freehand embroidery! I'm going to stick with JG for a while as I've also put this one in as my entry for the WIP Slayer contest on the Chatelaine BB.
In completely unrelated news - I've bought a piano! I've always wanted to learn to play, but it was one of those things I just never got around to. So I recently started having lessons. I'm still at a very basic level, but I figured as I'm serious about wanting to learn I'd better invest in an instrument to practice on. My piano is being delivered on Sunday...it's not new (hah, like I have
that
kind of cash to throw around!) but it's a beautiful Baldwin from a dealer in Sydney, and it comes with a 10 year warranty and a free tune on delivery, and I'm very excited about it! Pics to come once it's here!